Madmia Mermaid Seaworld socks Toddler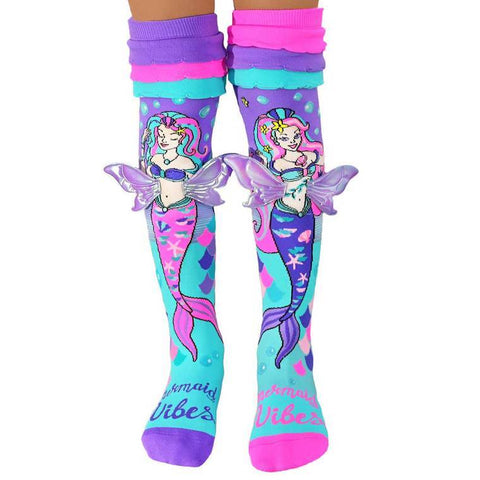 Madmia Mermaid Seaworld socks Toddler
Description:
Let's be a mermaid under the sea, with starfish kisses, and secret shells to see. With frills and 3D wings to stand out in the sea. This is the Mermaid Vibe you will want to be.

toddler aged 3 - 5
Socks Sizes 
Kids & Adults Socks
Our most popular size. These socks are 'one size fits most' and are suitable for ages 6 - 99.
They can fit adults but we recommend up to shoe size EU 41 equivalent to womens size 8/9 AU. Please note, they do have limited stretch around larger or muscular calves. Socks with less busy patterns such as (Mermaid Socks, Liquorice Bows Socks, Bows to Toes Socks) have better stretch and we highly recommend these patterns for adults to avoid stretch issues.
Toddler Socks
Most suitable size for children aged 3 - 5. If your little one is about to turn 6 soon we would recommend buying our standard 'Kids & Adults' size (for ages 6 - 99).
Best Sellers