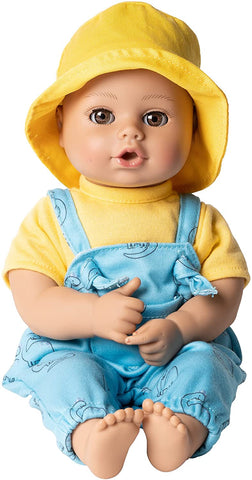 Adora Dino Boy Doll
Description:

Adora PlayTime Baby Dino Boy is the sweetest baby boy doll to complement your nursery! He makes a great 1st baby doll for toddlers with his fun ensemble that is just too cute for adventures! He is outfitted in a yellow jersey knit shirt and a blue dino printed overalls. To match his RAWR-some outfit, Dino Boy also wears a yellow bucket hat on top of his delicately hand-painted light brown hair that brings out the color of his beautiful brown eyes.

Adora PlayTime Baby Dino Boy can also suck his thumb and arrives with a blue Adora baby bottle which completes this 13-inch soft baby doll set. Take this soft play doll home with Adora PlayTime Baby Bright Citrus and Sunny Days Doll Carrier Snuggle for an added fun in your playroom!

Adora PlayTime Dino Boy is a 13-inch soft baby doll and weighs about 12 ounces. This soft play doll has a cuddly silky-smooth body and bean bag weighted bottom that makes him feel like a real baby, perfect for cuddles & kisses! Handmade and ready to be loved, he is carefully crafted from our exclusive GentleTouch™ vinyl which gives him a fresh baby powder scent. The best part of this boy doll is that he is 100% Machine Washable, so after a trip to the playground, store, or park, wash him, lay him flat to dry and he will be clean & ready again for play! Browse more of our PlayTime Babies and fill in your nursery with love!
Makes a perfect gift for ages 1 and up.

Best Sellers