Crystal Science 4M Kidz Labs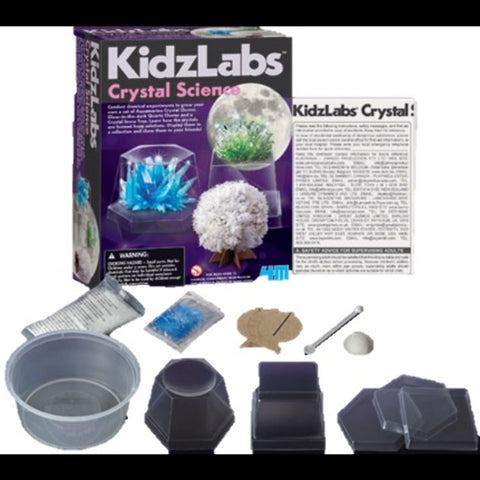 Crystal Science 4M Kidz Labs
Description:
Age 10 years and up
Moon Crystal Cluster will grow to about 4.5cm in diameter and 3.5cm in height
Aquamarine Crystal will grow to about 3m in diameter and 2.5cm in height.
Crystal Snow tree will grow to about 7cm in diameter and 8cm in height.
Size, shape, and colour may vary depending on the experimental conditions.
Includes: a large bag of white crystal compound* (a base compound called Monoammonium Phosphate), a small bag of blue seeding mixture, a square transparent base with cover, a hexagonal transparent base with cover, a shallow hexagonal container, a glow-in-the-dark moon crystal base, a stirring bowl, a stirring spoon, 1 set of crystal snow tree paper and detailed instructions .
Also needed, but not included in this kit: a jar of steaming hot water, an apron, protective goggles, and rubber gloves.
Best Sellers