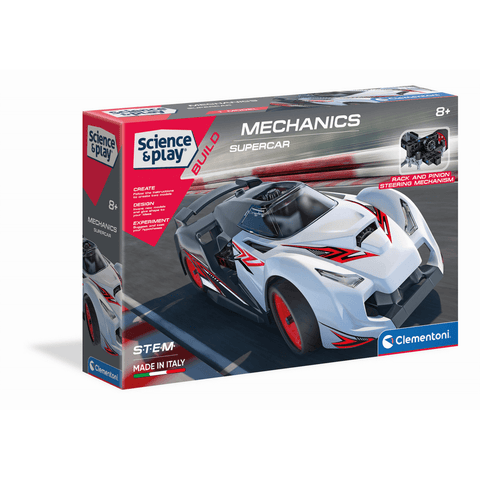 Mechanics Supercar
Description:
A racing car to be recreated and explored thanks to sturdy components, for speeding off to new adventures, turning ideas into reality and getting familiar with mechanics and engineering.

A kit for having fun imagining new solutions and brilliant assemblies.

A play experience that demands concentration and precision in every phase for maximum engagement.

A construction laboratory for stimulating creativity and imagination.
product features
By assembling the components, the child can test their ideas and verify whether the resulting solutions are correct. The world of engineering and mechanics is the cornerstone of this laboratory, which encourages the child to develop concepts and test ideas for reproducing his favourite vessels.
With interactive 3D instructions for mechanical solutions that defy the obvious. Besides the illustrated scientific manual, there is an app to follow the assembly phases in a simple and fun way. All the components for building a car with an attractive design. A construction kit for assembling the car's chassis on which the body will then be attached.
The pack also includes a coloured set of stickers for decorating the racing car. The functioning steering mechanism can be controlled from above, for adventures to be invented through imagination. Each individual piece of the chassis is carefully worked down to the slightest detail. The constructions are designed, conceived, developed and manufactured entirely in Italy.
Age: 8 years and over



Best Sellers