Sylvanian families Baby Hedgehog Hideout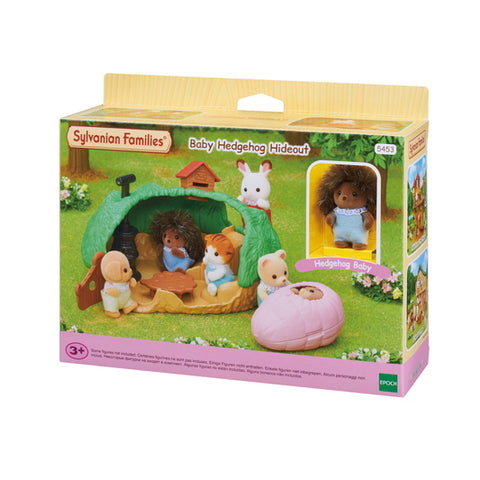 Sylvanian families Baby Hedgehog Hideout
Description:
Sylvanian Families #5453
Baby Hedgehog Hideout is a secret hedgehog house for a Hedgehog Baby. The Hedgehog Baby fits snugly into the sleeping bag. Inside the hideout is a slide, a hedgehog-shaped table, and a stove.

Combine with Adventure Tree House, Lakeside Lodge, Family Campervan, Baby Ropeway Park or Baby Collectibles: Baby Outdoor Series for even more fun (sold separately).

Contains Hedgehog Baby, Main Unit Top Part, Main Unit Bottom Part, Postbox, Table, Stove, Chimney, Sleeping Bag Top Part, Sleeping Bag Bottom Part (a total of 9 pieces)

*Comes with a sleeping bag that fits a Hedgehog Baby snugly, a hedgehog-shaped table, and a stove.
*Comes with collectable Hedgehog Baby.
*Sylvanian Families' miniature dollhouses, playsets and figures are timeless and classic high-quality toys.
*Suitable for ages three years and above
Best Sellers