Hi Tech Racer Car Banbao Blocks 6955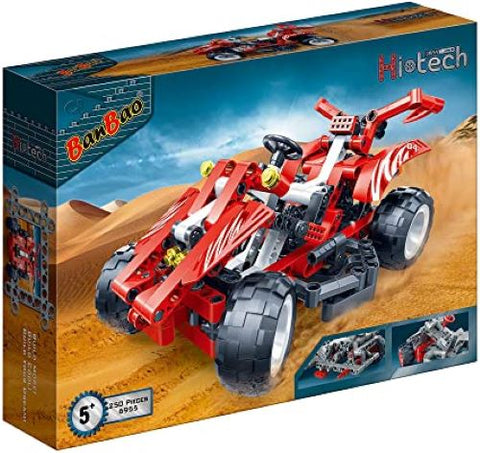 Hi Tech Racer Car Banbao Blocks 6955
Description:
The Red racer is superfast and lives up to its name because of its striking tough red colour. Because of its small size, he manoeuvres effortless over the most difficult tracks! On the rear, Red racer has a large spoiler, providing even better readability. Like this, it can take dead sharp bends and still keep its high speed. Now climb behind the wheel of this tough racing car, and try it yourself! Show who is the fastest and experience endless hours of fun with this Red racer! Build this Red racer with the BanBao building blocks. The Red racer is one of the eight unique racing cars of the BanBao High-Tech series, each one with its own unique and fun features

Suitable for children over 5 years. BanBao's toy building blocks contributing to the educational development of young children. The toy is suitable for boys and girls 5 +. With the wide variety of unique toys series BanBao children can build their own dreams.

Contains 250 pieces

Compatible with lego.

This is a quality product you will not be disappointed and a brand you will come to know and love.
Best Sellers