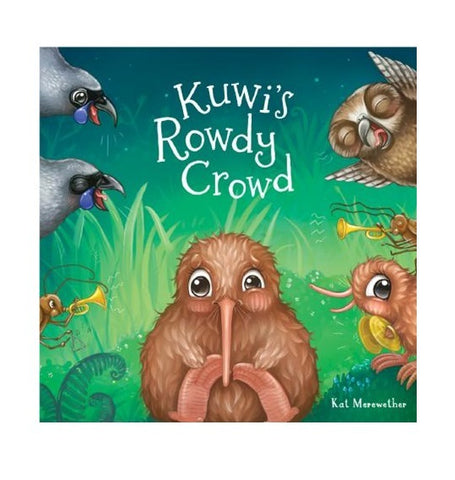 Kuwi's Roudy Crowd book
Description:
Great Kiwi book 
Kuwi the kiwi attempts to find a moment of peace and quiet in the chaos of parenthood, but everywhere she turns the volume just gets louder. Tap-dancing tomtits, karate-kicking kõkako and other noisy native friends join in the rowdy fun, until Kuwi can't take it anymore…
The quirky and quintessentially Kiwi illustrations will have both adults and children laughing out loud, with a humorous storyline familiar to parents everywhere. Young readers will be delighted by the fun noises they can make to match each illustration, and as they guess which creature will pop up next. The story also holds a heartwarming and subtle message about being happy with what you have.
The Kuwi the KiwiTM series is a proud supporter of Kiwis for Kiwi Trust, donating 20 cents from each book sale to support kiwi conservation projects in New Zealand. To date, the series has donated in excess of $25,000.
From Bestselling and Award winning New Zealand Author Kat Merewether
240 x 240mm
36 pages of full colour
Written and Illustrated by Kat Merewether
Best Sellers