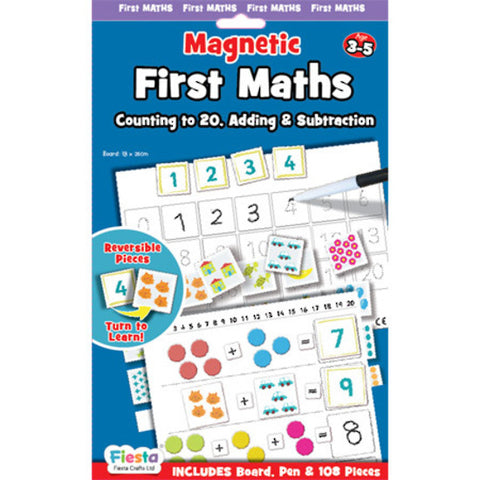 Magnetic First Maths
Description:
Turn learning to add and subtract into a fun activity with this magnetic First Maths Set by Fiesta Crafts. This set has been designed to visually aid, support and stimulate children as they start their educational journey.

Children can count pictures of familiar items like bananas or cars, which make it a more playful exercise than using numbers alone, and the inclusion of a dry-wipe pen to copy numbers helps make this an activity that can be repeated over and over again.

First Maths comes complete with a sums and counting board, erasable pen, 108 magnetic pieces and double-sided number pieces from 0-20, as well as seven activities that adults can set children to complete depending on where they are on their mathematical journey.
Age guide – from 3 years.
Best Sellers