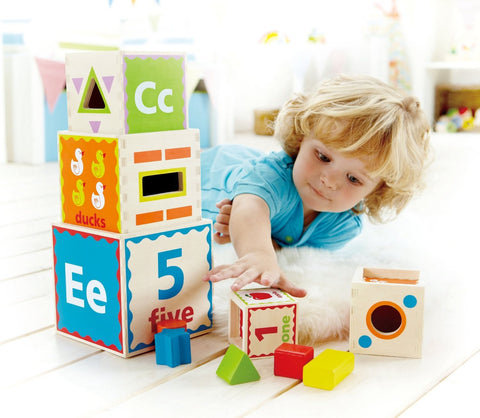 Pyramid of play by Hape
Description:
wooden stacking blocks and posting blocks
The Pyramid of Play by Hape is more than it seems. with five colourful wooden nesting blocks, each blocks has five sides of letters, numbers, pictures, shapes, and colours which adds up to dozens of ways to play.
We love that there's a raised lip on the top of each block keep the tower from toppling easily (great for one year olds just learning to stack). Everything is color coded, and it doubles as a shape sorter (shapes fit with their corresponding block with a colour outline to help teach matching). The colors are vibrant and everything is durable. Brilliantly versatile toy, with so many ways to play: pop in the shapes, stack the cubes, park cars in the cubes, etc. Great alternative to cardboard nesting blocks if you have the more rough and tumble sort. Durable child safe paint finish solid wood construction stimulate children through multiple stages of development Recommended for ages 18 months and up (but we think it makes a great first birthday gift!).
Best Sellers