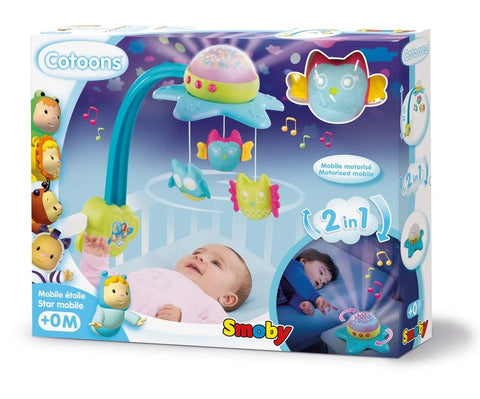 Star Mobile Cotoons
Description:
Thanks to the Cotoons mobile your baby will have sweet dreams!
With its 3 owls and its 4 sounds (3 lullabies and 1 neutral atmosphere) baby will quickly fell asleep.
Flowers and butterflies projected onto the ceiling will calm baby, notably thanks to the soft light which changes colour.
The sound sensor enables you to control remotely the mobile and to trigger it by a snap of the fingers when you want. If your toddler starts cry, the mobile will restart automatically!
This mobile is evolving with your child! When baby doesn't sleep anymore in a cot, you can use the mobile as a musical night-light by detaching the head of the mobile and tabling it on a bedside table.
3 AA batteries not included
Best Sellers